10+ Things You Should Do When You Get To OC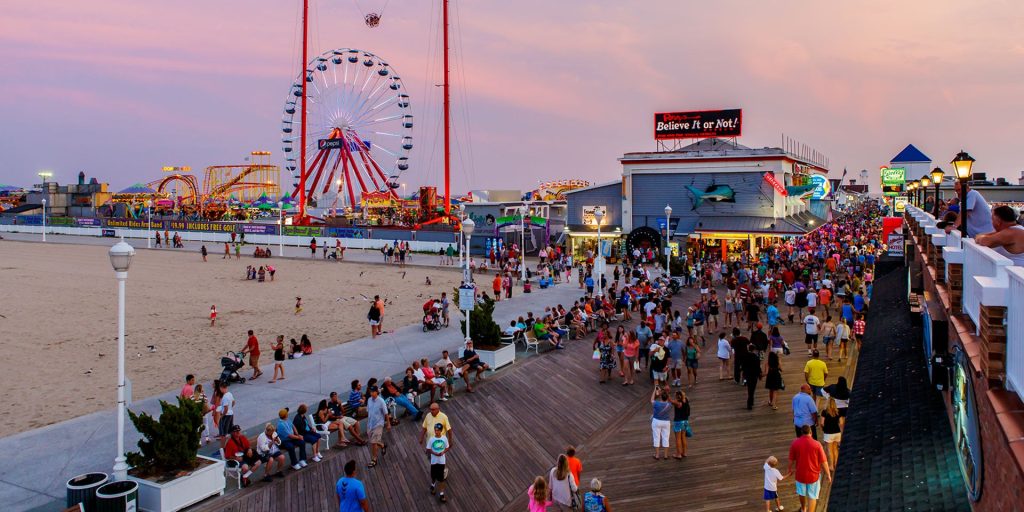 1. Hit the boardwalk. At just under three miles, the Ocean City, Maryland, boardwalk is a perfect family bike ride, an invigorating walk or run, or a relaxing tram ride. At night, the boardwalk comes to life with rides, arcades, amusements and much more
2. Indulge in our culinary delights. Ocean City's culinary scene has never been more alive, with new restaurants opening and chefs insisting on fresh, locally sourced ingredients. Ocean City's 200+ restaurants serve up fresh seafood, boardwalk fries, Maryland crab cakes, hot, fresh pizza, juicy Delmarva fried chicken, sweet saltwater taffy and some of the finest dining in the Mid-Atlantic. Plus, check out our breweries and brewpubs to enjoy a local craft beer or our distillery for handcrafted spirits.
3. Water, water, everywhere! OCMD is surrounded by water, and you're surrounded by choices of how to enjoy it! Explore OC's ecotourism with great sightseeing water tours via boats, kayaks and catamarans, or if you're ready to venture out on your own, you can rent paddleboards, canoes, jet skis and more. And let's not forget OC offers some of the best surfing in the mid-Atlantic!
4. Soak up OC's culture, arts and history. Catch a concert or performance at the 1,200-seat Performing Arts Center or view the latest art exhibits at The Ocean City Center for the Arts. You can even go back in time to explore Ocean City, Maryland's colorful history at the Life-Saving Station Museum or by taking a walking tour or ghost tour of our historic downtown area.
5. Get in touch with nature. Check out Assateague's wild ponies – the famous ponies are just nine miles from Ocean City, along with nature trails, deer, foxes and thousands of birds.
6. Do some serious shopping or relaxing. Hit our outlets, the boardwalk, Gold Coast Mall, boutiques or do some antiquing in nearby Snow Hill and Berlin. Then, relax at one of our local spas and salons.
7. Enjoy our nights of free family fun. In the summer, there is a free family event almost every night of the week. Some of the events include:
8. Sports and Recreation. The beach isn't the only place you can have fun! You can rent a bike or ride your own. Get those rollerblades out for some ocean-side fun. Bring your skateboard to the Ocean City Skate Bowl Park or enjoy a game at one of our many parks, including Northside Park, the 58-acre complex is Ocean City's largest and most popular park facility. Play your favorite sport on our softball, baseball or soccer fields. Or pack a lunch, grab your family and enjoy some quality time at one of our lovely picnic sites or playgrounds.
9. Fore! Ocean City is home to some of the most scenic and challenging golf courses in the Mid-Atlantic region. Or if miniature golf is more your speed, you will find a number of fun courses in town.
10. Plan your return trip to Ocean City. There's so much to do, you'll never fit it all into one visit. So scope out what you'd like to try on your next Ocean City vacation, and make your reservations now!